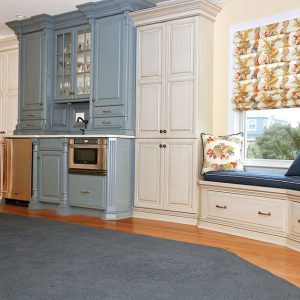 The kitchen is the heart of the home, and it should be tailored to your unique tastes. With custom cabinetry, there are a plethora of possibilities to discover when it comes to remodeling your kitchen. At MDA Designs, we combine your vision and imagination with our knowledge and expertise to design the perfect custom kitchen for you and your family. With design, development, remodeling, and project management services available, we're with you every step of the way.
Consultation
Many homeowners have a lot of fantastic ideas when it comes to kitchen design. 
They find it easy to put their design desires on paper, but the challenge lies in how to bring those ideas from concept to reality. Each custom kitchen renovation begins with a consultation. Our experts will meet with you to identify your needs, preferences, and budget. They will discuss what options are available and answer any questions you have about custom kitchen design.
Design
When it comes to custom kitchen remodeling, the devil is in the detail. No matter how broad or specific your requests, we maintain every element as equally important when designing your custom cabinets. Every piece is hand-crafted and customized for each project. From exceptional woodwork to hand-polished stains that suit your style, we make sure that every detail is no less than perfect. You want a kitchen that feels like you, which is why we keep your preferences and style top of mind during the entire design and installation process.
Installation
At MDA Designs, we're with you from idea to completion. Once you've decided on the design that fits your preferences, we'll work tirelessly to ensure that your custom kitchen is completed to the highest standards. Our experienced tradesmen know exactly what you want and will execute each detail with utmost precision. If you have your own remodeling team, we can work with them to ensure that each detail of your custom kitchen design is executed with accuracy.
Get In Touch
Are you ready to transform the heart of your home into a place that lives up to your heart's desires? If you're looking for a high-quality custom cabinetry design for your kitchen, contact us today to arrange a consultation with an architectural woodworking specialist.