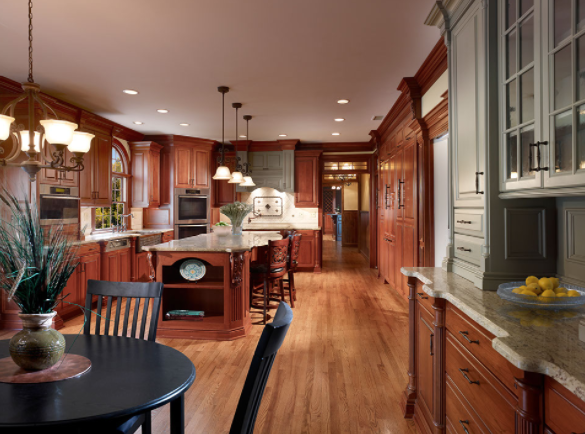 You might consider yourself a DIY expert, but a kitchen renovation is a big step up for even the most seasoned handymen. The craftsmen at MDA Designs have honed their skills over the decades, remodeling kitchens to create one-of-a-kind spaces for homeowners in the southeastern Pennsylvania region. When searching for an expert crew for kitchen remodeling, Harleysville PA residents turn to MDA Designs.
We are a one-stop shop for custom designing, remodeling, and construction, saving you the headache of using multiple contractors for the same job. Call 267-716-6550 to schedule your free consultation and find out how we can turn your vision into a reality.
MDA Designs – Full-Service Kitchen Remodeling – Harleysville PA
When MDA Designs founded this company in the early 1990s, his aim was to bring sophisticated design to Pennsylvania's homes. His renovation projects are unique in that every element is custom built, from counters and cabinets to luxurious architectural woodwork. It's a custom and quality process that enables us to tailor the design to your vision, creating a space that meets your needs, preferences, and budget.
After your free consultation, our expert craftsmen will help you settle on the perfect design and then work to ensure that the renovation remains in line with your overall vision. For every new project, our team will handcraft and customize pieces to ensure that every detail meets your wants and needs. Our contractors are also skilled at other custom interior designs, such as:
Crown molding
Base molding
Wainscoting
Coffered ceilings
Case molding
Custom mantels
Our kitchen remodeling experts are committed to maintaining an open line of communication, promptly answering any questions you might have. With exceptional customer service and unparalleled talent, our team designs beautiful remodeled kitchens completed to the highest standards.
Kitchen Remodeling Harleysville PA Homeowners Love!
You can do it yourself, or you can do it right – MDA Designs' expert crew is here to turn your dream kitchen into a reality. Our history in custom kitchen redesigns is second to none in the southeastern Pennsylvania region. Call 267-716-6550 and discuss your project with one of our experts.