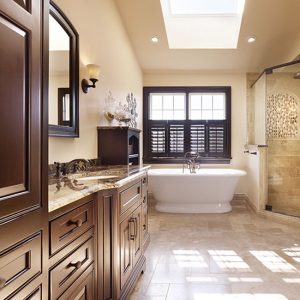 Updating your bathroom cabinetry and shelving can breathe new life into an old bathroom and add style and character to a more modern space. An updated bathroom with unique architectural elements can also increase your home's value exponentially. If you're thinking of refinishing or upgrading your bathroom cabinets and shelves, MDA Designs can help. We have over 25 years of experience in providing homeowners with exceptional woodworking in every room of the home.
Consultation
At MDA Designs, our experienced designers and tradesmen are experts at understanding every element of the design and installation process. We pride ourselves on our commitment to offering only the best advice and recommendations based on your style and needs. Each custom interior renovation begins with a consultation. Our experts will meet with you to identify your needs, preferences, and budget. They will discuss what options are available and answer any questions you have about custom woodwork.
Design
When it comes to bathroom design, it's important to focus on both functionality and aesthetics. Our collection of custom products include storage cabinets, medicine cabinets, shelves, vanities, and more. Every piece is handcrafted and customized for each project, meaning that the finished product is a true original. No matter how broad or intricate your vision is, we will focus on each and every detail throughout the design process to create the ideal look for your home.
Installation
Once we've helped you design on the best look for your bathroom, we are committed to ensuring that the project is completed to the highest standards. Our experienced tradesmen have your interests in mind throughout the installation process and will execute each detail with utmost precision. If you have your own remodeling team, we can work with them to ensure that every detail is executed with accuracy.
Get In Touch
Are you ready to turn your bathroom into a luxurious space for rest and relaxation? If you're looking for a high-quality, custom interior woodwork, contact us today to arrange a consultation with an architectural woodworking specialist. We look forward into turning your architectural dreams into reality.