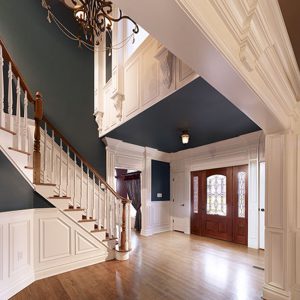 Custom woodwork is aesthetically appealing in every room of the home. From living rooms to libraries, even closets, each detail can be tailored to your unique tastes. At MDA Designs, our craftsmen are skilled at custom interior designs such as crown molding, case molding, base molding, wainscoting, coffered ceilings, custom mantels, and more. With design, development, remodeling, and project management services available, we're with you from start to finish.
Consultation
You've been dreaming about designing your ideal home for years. You have several ideas of exactly how each element in the home should be, but how do you turn that into reality? That's where MDA Designs comes in. Each custom interior renovation begins with a consultation. Our experts will meet with you to identify your needs, preferences, and budget. They will discuss what options are available and answer any questions you have about custom interior woodwork.
Design
Focusing on the right interior woodwork adds character, elegance, and value to your home. At MDA Designs, we make sure that every piece is hand-crafted and customized for each project. No matter how intricate your particular wishes may be, we will focus on each and every detail throughout the design process to create the ideal look for your home. We can also help you choose crowns, moldings, knobs, and other finishing touches to complete the design process.
Installation
When it comes to installing the custom interior features in your home, quality is the most important factor. After you've decided on the style that suits your preferences, we'll work relentlessly to ensure that your interior woodwork is completed to the highest standards. Our experienced tradesmen know exactly what you want and will execute each detail with utmost precision. If you have your own remodeling team, we can work with them to ensure that each detail is executed with accuracy.
Get In Touch
Are you ready to add luxurious architectural woodwork to your home? Once you've sampled the many possibilities available, you won't want to leave any room unfinished. If you're looking for a high-quality, custom interior woodwork, contact us today to arrange a consultation with an architectural woodworking specialist. We look forward into turning your architectural dreams into reality.