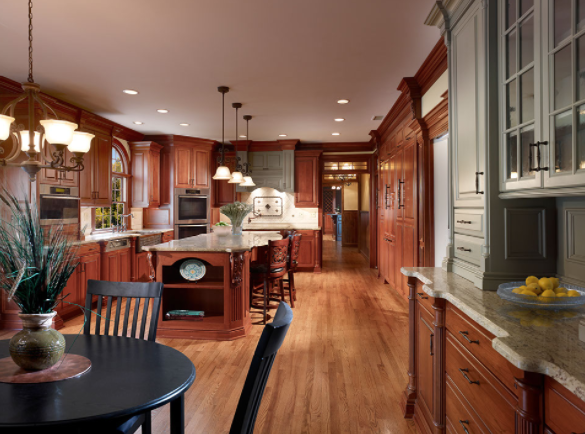 Right at the top of every homeowner's wish list, you'll find one big idea: a beautiful kitchen renovation. But it's a massive investment of money, time, and energy. At MDA Designs, our team of expert craftsmen has the skills, tools, and resources to simplify your project while helping you create a beautiful space tailored to your exact tastes. When searching for a company with a reputation for exceptional kitchen remodeling, Langhorne PA homeowners turn to MDA Designs.
With our design, development, remodeling, and project management services, we're with you from first blueprint to final build. Call 267-716-6550 today for your free consultation.
View Photos of Our Past Projects
Our gallery includes pictures of just some of the custom woodworking we've created for kitchens, bedrooms, and bathrooms throughout the southern Pennsylvania area. You can browse through our portfolio here.
What Sets MDA Designs Apart from Other Contractors in Langhorne PA?
While any contractor can promise you stunning results, we are one of very few construction crews with the necessary tools, experience, and resources to deliver. With the craftsmen at MDA Designs, there is no ceiling to your vision. We will help you develop the initial concept, handcraft each wooden component, and finalize the installation while paying special attention to the tiniest details to ensure every element of your remodel is up to the highest standards. Our aim is to create a distinctive space that is equal parts functional and stylish.
How Much Experience Do You Have Building Custom Kitchen Cabinets?
Since the early 1990s, when MDA Designs first founded this company, we have spent time fine tuning our designs and construction process. The result: beautiful kitchen cabinets that are elegant, durable, and unique. Our craftsmen are also skilled at other custom interior designs, including:
-Case molding
-Base molding
-Coffered ceilings
-Custom Mantels
-Crown molding
Kitchen Remodeling Langhorne PA Homeowners Recommend!
Kickstart your kitchen renovation with help from the designers and craftsmen at MDA Designs. Our history in custom wood cabinets and woodwork is unparalleled in the southeastern Pennsylvania region. Call 267-716-6550 to find out more.